This one's for all the fellas out there. I see a lot of male clients for skin and waxing needs. I think men find it just as important to care for their skin as women do, but they don't always know where to start. Our market is saturated with advice and skin care regimens that cater to women and their skin types, but it is much harder to find advice specifically for men.
There are three areas in which men's skin differs from women, and these are all important to address when you care for your skin:
Your skin is 25% thicker
What does this mean? Dense skin needs to be exfoliated more often to boost the skin's health. Exfoliation is vital in keeping skin free of debris and allowing it to be able to absorb all the good stuff you put on it.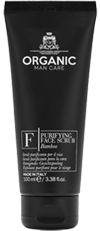 Skin Care Tips:
Plan to exfoliate 2-3 times a week. Use a product like OPC Man Care Purifying Face Scrub. This is a very gentle scrub made with bamboo stem extract which thoroughly moisturizes and helps restore skin's elasticity and apricot seed powder to gently buff and cleanse your face, leaving your skin feeling fresh, healthy and renewed.
Use exfoliation in your everyday products such as an exfoliating face wash. The British Barbers' Association Face Wash has a built in scrub and contains kaolin and English chamomile to decongest pores and panthenol (B5) to hydrate and soothe the skin.
Your skin has more pores and produces more oil
Let me start off by saying, you lucky ducks! More oil on your skin means that your skin is better preserved and is slower to show signs of aging. This also means that you have to be diligent with washing your face regularly. The extra oil on your skin has a greater chance of catching debris, including bacteria which can cause breakouts. Staying on schedule with your washing, twice daily, will help to keep your healthy oil clean and free of skin disruptors.
Skin Care Tips:
Follow a daily skin care routine that's right for your skin. All three of our Men's lines are easy to follow with three products each. Each line offers different signature aromas and product textures, so there is sure to be a line for your individual preferences. All you need for your basic routine is a cleanser, exfoliator and moisturizer. Choose from our Organic Pure Care Man Care, British Barbers' Association or Nelly Devuyst For Men. All three have their own masculine aroma and benefits specifically for men's skin. I suggest coming in to try them all to see which line you prefer.
Embrace your oil by keeping it on your skin. When you cleanse watch out not to strip these healthy oils by using something too harsh. Use a face wash tailored to your skin. If you have sensitive skin try Nelly Devuyst Foaming Wash for Men. Use a moisturizer after every cleanse to make sure you replace the moisture removed by your cleanser. Nelly DeVuyst Soothing Emulsion For Men will calm your skin, removing any redness and rehydrating  without heaviness.
You have facial hair
Facial hair can cause challenges for the skin. The constant growth and removal of thick hair on the face can cause the skin to become sensitive, red and reactive. Having facial hair can also make it harder to reach the skin underneath your beard or mustache. That skin can become dried out and neglected.
Skin Care Tips:
Remove facial hair with care! Our BBA Line has your shave care needs covered with a Shave Butter and Post Shave Balm that protect the skin every time you shave. They also have a Shave Cream and Shave Oil to choose from to make the process of shaving much more comfortable.
You can also treat yourself to a luxurious shave service at Modern Salon & Spa. These service are available exclusively with Sean Foley at our Metropolitan location. Each service is tailored specifically to your needs, so you can feel confident that you're getting your best shave ever. Learn more about our shave services over on our men's menu.
Treat the skin under your manly manes. Ingrown hair, dry skin and sensitivity are all common symptoms around areas with facial hair. You can prevent these symptoms using a product like Hygia Oil by Nelly Devuyst, which works as a natural antiseptic and skin soother. All you need is a couple of drops applied to the skin under the hair. With its blend of lavender, thyme and geranium oils, Hygia oil fights ingrown hairs and breakouts while calming down any sensitivity or dry skin.
Following these simple tips will help you get your skin looking its best.  For a little extra boost to your new skin care regimen, you can also schedule a Men's Facial. This 60 minute service will leave you feeling relaxed with refreshed and rejuvenated skin.
Now through Father's Day, purchase a 60-Minute Men's Facial and 60-Minute Massage, and you will receive your choice of complimentary Man Care product up to $30! The products include necessities for men's skin, Moisturizing Face Cleanser, Purifying Face Scrub and Toning Face Cream. These three products are all you need to naturally and effectively care for manly skin. You can also trust that the ingredients are of the highest quality and free from any harmful additives. This is a great gift for yourself or for Dad!
Jessica McGuire
Esthetician since 2007
Modern Salon & Spa | Hearst Tower
I always knew that I wanted to choose a career that would impact others in a positive way. Growing up in Raymond, Wisconsin with a mother and sister who are an occupational therapist and massage therapist inspired me to explore a field in which I can nurture others.  I love to help others reach their skincare, beauty, relaxation and wellness goals. The best part of my day is connecting with the people who entrust me with caring for their skin. I always strive to grow my knowledge and pass it on to others.
I love to provide waxing services for my guests, and I have often been told they are quick and painless!  In brow waxing, I find a creative outlet as well as the fulfilling goal setting that a lot of these entail.
I am so excited to share my knowledge of skincare, beauty, relaxation and wellness with you through this blog!