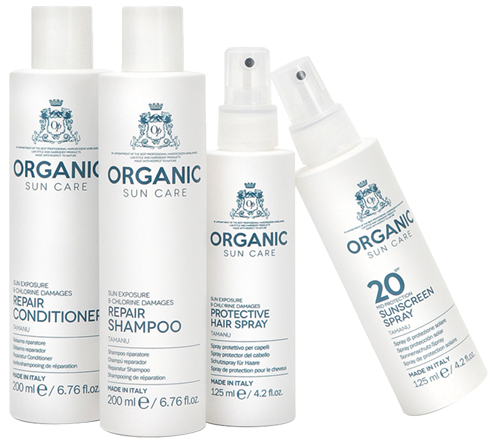 It's summer and the sun is out! At Modern Salon and Spa we don't think you should have to choose between protecting your gorgeous locks and enjoying the rays, and with the Organic Pure Care Sun Care line, you don't have to! Sun Care features organic Tamanu oil which repairs and protects against all of the sun and fun you'll be enjoying this summer.
Tamanu oil is unique for its triple threat of natural antibiotic, anti-inflammatory, and antioxidant properties. It is also packed with more than 35% omega-6 fatty acid!
The antioxidant action of the Sun Care products help to protect the hair and scalp against the damages caused by aging. Anti-inflammatories help to soothe the scalp while antibiotics heal the hair from the inside out. The omega-6 fatty acids, or linoleic acids, replenish hair and scalp's natural fats, preventing dehydration and adding moisture and high shine to your mane! With all of these properties there is no question why organic Tamanu oil is the star of the Organic Pure Care Sun Care line.
The line consists of three luxurious products: Repair Shampoo, Repair Conditioner, and the Protective Hair Spray.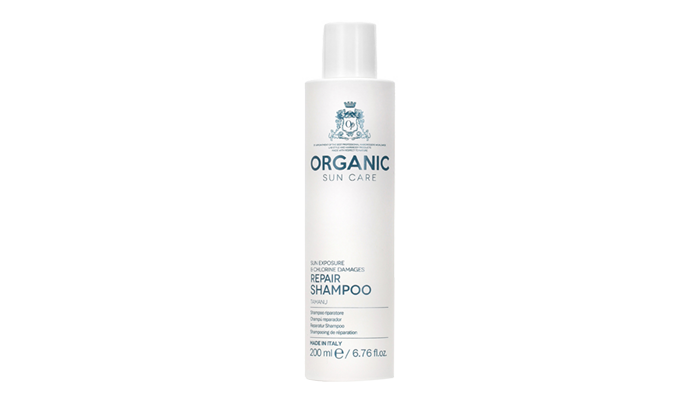 Repair Shampoo is a clarifying shampoo that offers a gentle yet deep clean. It begins the repairing of damage caused by sun exposure like faded color, dryness, frizz and even split ends and  from contact with oxidants like chlorine. It can be used to cleanse and moisturize the hair, scalp, and skin which is perfect for those of us who like to pack light! To use on hair and scalp: emulsify a quarter-sized amount between palms and work through very wet hair, lather, rinse, and repeat if desired. To use on skin: apply to your favorite loofa and lather up just like you would with traditional body wash!
Repair Conditioner is the next step in your repair and protect journey. It continues to repair sun and oxidant damage while infusing the hair with those linoleic acids leaving the hair soft, shiny, and manageable. To use: after using the Repair Shampoo, towel-dry the hair to remove excess water. Apply a nickel-sized amount to the ends of hair and work any excess upward towards the scalp; apply more if necessary. Comb through and let sit 5-7 minutes.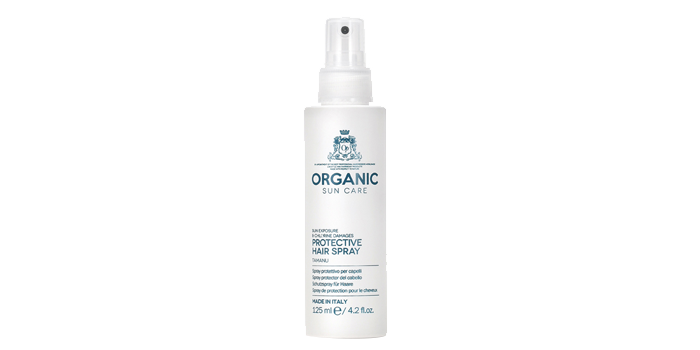 Protective Hair Spray rounds out our trio. It protects the hair from UVA/UVB rays and oxidants and seals in moisture and shine. It creates a protective film and leaves the hair feeling soft and silky. It is my go-to detangler on the salon floor! To use: rinse the Repair Conditioner and towel-dry the hair once again. Spray evenly throughout ends of hair, start with two sprays and add more if necessary. Comb through to distribute and style as usual.
With the Organic Pure Care Sun Care line there's no need to stress about your hair this summer. Even if you don't have any trips planned the alluring coconut aroma will have your brain on the beach in no time, you'll be soaking up sun and Sun Care will be protecting your hair!
Pro Tip:
Ready, WET SET, Go!
No time to stop back in the hotel between laying out and going out? Try this trick!
1: Split towel dried hair into two even(ish) sections
2: Style with two braids, twists, or buns. Whatever is easiest for you! (Braids give the strongest wave and buns the loosest.)
3: Finish getting dolled up and head out for the day! Don't forget your Protective Hair Spray (and a hat if it completes the look)!
4: When you're ready to head out, spritz a small amount of Protective Hair Spray in your hands and begin to take down your daytime style to reveal lived-in beach waves fit for a Sports Illustrated cover model! Refresh your Kripa lip gloss and you're ready for a night on the town with a fresh bronzed glow and beautiful soft and shiny hair!
 Come see us at Modern Salon & Spa to get your best hair for the summer. Call or text us to schedule your appointment: 704.339.0909.
About the Blogger
Patrice Berry
Stylist since 2014
Modern Salon & Spa | Metropolitan
Growing up, in Northern Virginia, I loved all things fashion and beauty! I spent my high school years attempting to perfect a winged liner and develop my personal style. It all culminated on prom night where I debuted a killer makeup and hair look that paired perfectly with a dress I designed! I felt so good about what I had created, I continued my passion in college, earning a degree in Fashion Merchandising as well as beginning a freelance makeup artistry career. After graduation I realized I wanted to make beauty my top priority, so I earned my cosmetology license and the rest is history!
Since moving to Charlotte in 2016, I'm happy to have the opportunity to work at Modern Salon and Spa creating customized hair and makeup looks for my guests. I enjoy making my guests feel relaxed while they're in my chair and confident when they leave the salon.
I can't wait to share all that I've learned, and continue to learn, about beauty!