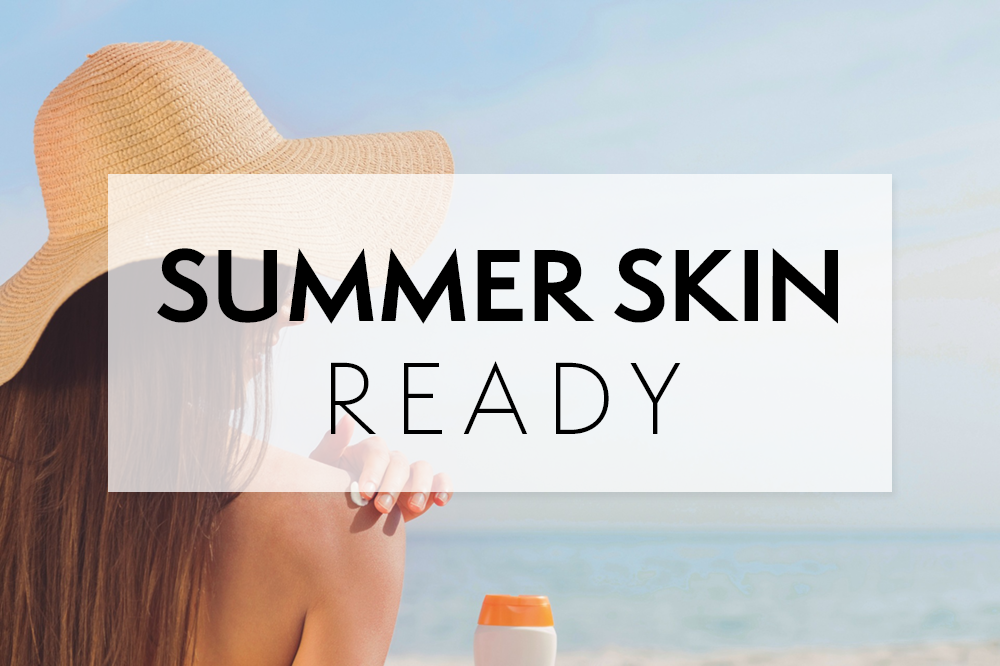 Well, it has happened again! We blinked and summer is right around the corner! As we break out our shorts, tank tops, and swimsuits in preparation for the warmer weather, we want our skin to look as healthy as possible! Maintaining healthy, younger looking skin is all about protection. Wearing an SPF regularly is vital for our skin, not only for sunburn prevention but to prevent premature aging.
Most people only think of wearing an SPF when it's summer or when involved in outdoor activities, however sun protection should be worn everyday throughout the year. The sun's rays can affect your skin when driving, when sitting next to a window, and on the short walk from your front door to your car. This can, over the years, have a profound effect on the health of your skin. According to the Skin Cancer Foundation, long spectrum UVA rays permeate 70-80 percent through clouds and fog, so you should even apply sunscreen on overcast days.
Sunscreen provides great protection to preserve both the appearance and health of your skin. Did you know that one blistering sunburn doubles your chances of melanoma later in life? Even less severe sunburns carry risk – just five sunburns will also double your chances of melanoma. Whether you are spending time in natural sunlight or tanning beds, your skin needs protection from harmful UVA rays. Simply using an SPF every day will lower your chances of getting skin cancer by 40%!
Unprotected sun exposure can also change the texture and weaken the elasticity of the skin, contributing to premature aging and fine lines. According to the World Health Organization, "up to 90% of the visible changes commonly attributed to aging may be caused by sun exposure." Luckily, wearing sunscreen every day can help you minimize these effects. Our Nelly DeVuyst SPF 30 protects from 97% of the sun's rays, including UVA and UVB rays, and can easily be added to your daily routine. Simply apply your SPF before your regular makeup.

And remember, sunscreen should be reapplied every two hours and after swimming or sweating. Before you crack open last summer's sunscreen, always check the expiration date, as the SPF effectiveness decreases over time.
Don't wait until summer to start applying sunscreen. Start applying your SPF every single day – your skin will thank you!
If you have any questions about SPF or skincare, schedule a complimentary consultation with an esthetician here at Modern! We are here to help you achieve the beautiful, healthy skin you want. Call or text us at 704.339.0909 for appointments!
Meet the Blogger
Alex Chadduck
Esthetician since 2013
Modern Salon & Spa | Hearst Tower
I'm originally from Maryland, just outside Washington D.C. I moved to North Carolina with my family in 2005, when I was 10 years old. Moving from the cold Northern air to the humid South, my skin, typically clear, began breaking out, much to my dismay. My passion for skin care stemmed from a desire to fix my own skin; I began to apply my mother's skincare products and saw firsthand the difference a good skin regimen could make. By the age of 14, I knew I wanted to work within the skin care field.
I love that this industry is so versatile! Being able to perform facials, waxing services, and makeup services, I am able to help give people the confidence to go out in the world with their best foot forward, whatever their beauty goals might be! My favorite services to provide are facials and waxing.