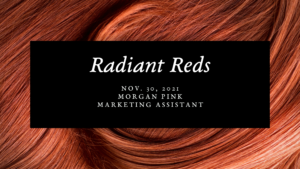 So, you want to go red?
Whether you've drawn inspiration from the fall foliage or you've always wanted to experiment with red, this article will guide you in selecting a shade and maintaining vivid red tresses. Emily Campbell, senior stylist and color educator, shares her expertise to help you achieve the red hair of your dreams.
Choosing the right red for YOU 
In order to determine which shade of red will most complement you, you need to look at your skin tone. In general, someone with an olive skin tone or medium to dark complexion will look best in a cooler red such as a red-violet. Those with fair skin usually look great with coppery warm-toned reds.
WARM OR COOL-TONED
A convenient method for determining if you are warm or cool-toned is to look at the veins on the inside of your wrist. If they have a greenish appearance, you are warm-toned. Alternately, if the veins appear blue you are cool-toned. If it's difficult to tell, you are neutral and can pull off warm or cool tones, lucky you!
LESS IS BETTER
Don't feel like you need to go with a solid all-over red, reds don't have to be one-dimensional. Campbell suggests adding different pieces such as coppery highlights or darker red lowlights to create a more natural look. 
Why red fades and how to maintain its radiance
Red hair loses its vibrancy because the red color molecule is really small, allowing it to bleed out of the hair more easily than other colors. Campbell informed me that sun exposure, hard water, mineral build-up, hot water, frequent hair washing, and shampoos containing harsh sulfates can dull red hair.
HOW TO AVOID DULL RED HAIR
Extend the life of your color with these tips: 
Wear a hat when in the sun for extended periods of time.

Use products, such as OPC Suncare Spray, that protect hair from sun damage.

Rinse hair with cool water to keep the cuticle closed and to preserve the color. Washing hair with hot water opens the hair cuticle and allows small color molecules to escape.

Use a sulfate-free shampoo.

Use a dry shampoo to extend the time between washes.
Color appointments and maintenance between appointments
Similarly, to other colors, root touch-ups for red hair are needed every 4 to 6 weeks. However, at these appointments, your stylist may need to apply a gloss or emulsify and rinse the dye through your mids and ends to revive their color.
Campbell recommends applying a color conditioner like Evo Fab Pro Color Conditioner once a week. She loves this conditioner because it is mixed and customized by your stylist to suit your specific shade. Evo Fabuloso Color Boosting Treatment is another great option. Rather than just maintaining your color, this conditioner will actually add pigment back into your hair.
For more information
If you would like to book an appointment with Emily Campbell or with any Modern Salon and Spa Stylist call us at 704.339.0909.