Springtime Skincare Trends and Tips
Spring is in the air! Flowers are blooming and the weather is getting warmer, so it's time to switch up your wardrobe and your skincare routine. I'm sure your winter lineup was full of moisture, moisture, moisture: heavier cleansers, oils/extracts, and thick creams. Now we can shed the heaviness of winter, and all it entails and move on to lighter, airier products. Let's take a look at some hot skin care trends and warm weather skin care tips, so your glow will rival that of a lovely springtime day!
One of the popular trends in the skincare world is skin scrubber spatulas. These devices are great exfoliators, getting rid of dirt and dead skin cells on the surface of your pores, enhancing the absorption of serums and moisturizers and are gentle enough for use on sensitive skin. Exfoliation is important as the temperatures rise because skin's oil production increases, which can increase the occurrence of clogged pores and acne.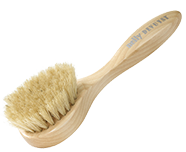 The skin scrubbers work best on wet skin so you have slip and won't tear or scratch your skin. You can use water or a hydrating toner such as Nelly DeVuyst's Lifting Toner or, for sensitive reactive skin, Soothing Lotion. After using the skin scrubber you can layer on your serum and moisturizer. Top it off with an spf and you're good to go! If you don't have a skin scrubber, a great alternative for gentle yet thorough exfoliation is Nelly DeVuyst's 3 minute Gommage. Use it once or twice a week with our gentle facial brush for comparable results to the skin scrubber.
There is also considerable buzz surrounding LED light therapy. Although it has been around since 1903, and research has unearthed more and more benefits for both skin and body, this modality has only recently gained traction in the skin care world. Similar to how photosynthesis nourishes plants, LED therapy heals using non-thermal infrared lights that stimulate activity in the fibroblasts of our cells, which are responsible for collagen and elastin production for our skin. What this means for us is plump, younger looking skin, a decrease in fine lines, and increased blood flow for a more radiant complexion. LED therapy also kills bacteria and helps to significantly reduce acne. If this is something you are interested in trying, our Synergie Ultimate Facial, offered exclusively at our Metropolitan location, is the perfect choice for you! This service includes microdermabrasion, vacuum suction massage, and LED light therapy and will leave you with the skin of your dreams.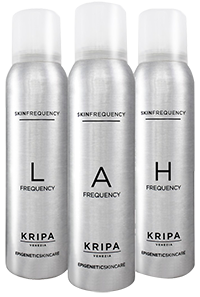 Our new Kripa Frequency sprays are on the cutting edge of skin care called Epigenetics. The word epigenetics refers to the process of biological mechanisms that switch certain genes on and off. Factors such as a person's age, diet, activity level, exposure to pollutants, region in which a person lives, inherited traits, etc affect epigenetics. So, what does this mean in regards to skin care? Kripa Frequency delivers potent ingredients and improve protein synthesis, the basis of skin's youth, delivered in an easily-absorbed water base. This product, available in anti-aging, lifting, and hydrating formulas, is a toner and serum all in one bottle, so you can spend less time on your skin care regimen and more time enjoying the beautiful spring weather!
Now let's talk about our general skincare regimen! Our skin produces more oil in the warm weather months, which can trap bacteria and debris on the skin, increasing the occurrence of clogged pores and acne, so choosing lighter, oil reducing products is a must! Let's start with the basics. Switching from a cream based cleanser to a foaming or gel cleanser will help keep oily build-up to a minimum;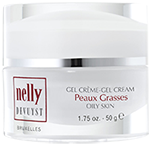 cleansing should be done morning and night. My next point is exfoliate, exfoliate, exfoliate. You can use a chemical exfoliant, such as a gommage, or a physical exfoliant, such as OPC's Micro Purifying Scrub once or twice a week, depending on your skin's sensitivity. Finally, choose a serum and toner to balance and treat your skin, like Kripa Frequency A, and a moisturizer to combat oil, like NDV's Oily Gel Cream.
Questions about which skin care trends would most benefit your skin? Feel free to visit any of our locations to consult with one of our wonderful estheticians. With a little guidance, we will have you on the road of having the most gorgeous skin imaginable in no time! Have a great spring!
Call or text us to schedule your consultation or appointment: 704.339.0909.
Meet the Blogger
Alex Chadduck
Esthetician since 2013
Modern Salon & Spa | Metropolitan
I'm originally from Maryland, just outside Washington D.C. I moved to North Carolina with my family in 2005, when I was 10 years old. Moving from the cold Northern air to the humid South, my skin, typically clear, began breaking out, much to my dismay. My passion for skin care stemmed from a desire to fix my own skin; I began to apply my mother's skincare products and saw firsthand the difference a good skin regimen could make. By the age of 14, I knew I wanted to work within the skin care field.
I love that this industry is so versatile! Being able to perform facials, waxing services, and makeup services, I am able to help give people the confidence to go out in the world with their best foot forward, whatever their beauty goals might be! My favorite services to provide are facials and waxing.