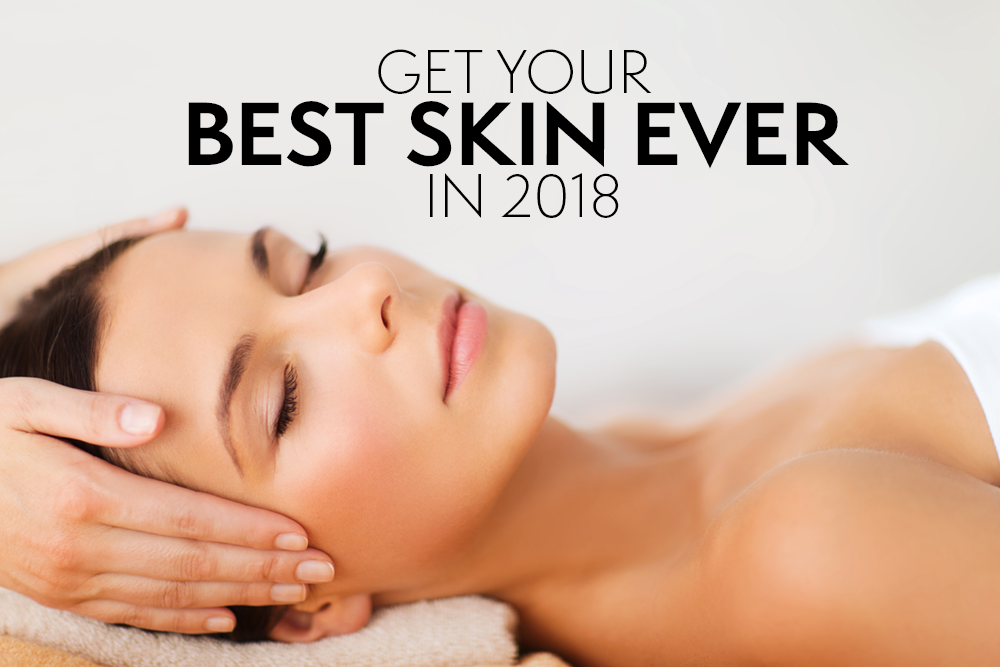 Happy New Year! The beginning of a new year is a wonderful time for self reflection and goal setting. As you set your New Year's resolutions, I encourage you to set skincare goals. Your skin is the physical representation of who you are, the first thing people see and remember after meeting you. If your skin is not where you want it to be then some changes could and can be made. Start off by asking yourself what your vision is for your skin. Do you want skin that glows? Skin that looks more lifted? Smaller pores? Defining your goals is the first step in achieving your best skin ever.
Here are a few of my best tips for getting your best skin ever this year!
Know Your Skin
Being aware of your unique challenges is essential to developing your path to great skin. Having your skin analyzed by an esthetician is a great way to learn what these challenges are and the proper measures to correct them. We offer complimentary consultations at Modern Salon & Spa where you can sit down with an esthetician who will analyze your skin and help you determine the best skincare routine, facials and products to achieve your goals.
Document Your Skin to Stay On Track
It's easy to fall back into old habits after the first few weeks of the new year pass by.  Avoid falling into this common trap by documenting your progress. Seeing the physical changes in your skin will keep you motivated so that you stay committed to your skincare routine.
Continued Maintenance & Setting New Goals
Once you've achieved your skin goals, you will need to commit to maintaining it through continuing your skincare regimen and having regular facials. You can also set new goals to keep yourself motivated. To help you stay on track, we offer a 10% discount when you purchase a series of 6 facials.
Having your skin deeply cleansed and exfoliated within a 6-week time period is important if you are looking for long term results. Your skin cells regenerate every 4 weeks. If you are receiving a facial at this time you will be assisting in the removal of dead cells and production of health new ones. The results are glowing skin and better absorption of products you use at home.
Know That Your Skin Changes
It is natural for your skin to go through changes with seasons and throughout the years of your life, so I encourage you to let your esthetician be your guide. Your esthetician can help you determine whether everything is still working for you or if you should change things up. We are here to serve you, so don't hesitate to ask us for help!
Now, a few quick tips that you should commit to doing every day:
Always Remove Your Makeup
We're all guilty of occasionally going to bed with makeup on, but this is one bad habit you should commit to breaking in 2018. Sleeping in your makeup can contribute to clogged pores, eye irritation and even premature aging.  Luckily, the solution is simple: wash your face before you go to bed to remove your makeup and anything else your skin has picked up from the environment throughout the day. Using a gentle cleanser, such as the Soft Net Foaming Wash by Nelly Devuyst, will remove makeup and debris. This will also help your pores stay empty and less visible. If you wear a good amount of eye makeup or waterproof then add the NDV eye makeup remover into your regimen as well.
Once a Week At-Home Treatment
A weekly at-home treatment can do wonders for your skin and help you relax through the ritual of a self-care routine. This can range from a weekly exfoliation to a hydration mask, such as the 3-minute Gommage or Lifecell Plus Mask. The 3 minute Gommage literally takes 3 minutes, so you can easily make time for this. Your esthetician can help you determine what will be best for your skin if you need more guidance.
Use Quality Skincare Products
The products that you use on your skin are absorbed into your body. Using quality products with natural ingredients will reduce your exposure to harmful chemicals which, over time, can cause health issues.
Make sure that you are using the appropriate products for your skin. For example, using bar soap, or any other products that are not specifically designed for use on the face, can strip your face of moisture. Keep in mind that the skin on your face is more sensitive because it is always exposed to the elements. Your esthetician can guide you in the right direction.
Use Moisturizer
You should be using moisturizer each time you wash your face. If you're not using moisturizer, you are not replacing the healthy moisture that is removed along with everything else when cleansing your face. My guests are often unaware that for some this can actually cause skin to over-produce moisture, resulting in oily skin. For others, not using moisturizer will result in dry skin.
Always Use Sunscreen
I cannot overemphasize the importance of using sunscreen every single day. Even in the winter, your skin is exposed to more sunlight than you realize. Wearing sunscreen every day will help protect your skin's integrity so that no further damage is caused. Some sunscreens contain moisturizer, such as Nelly DeVuyst's SPF 30. For dry skin, apply your sunscreen after your moisturizer.
Those are my tips for getting your best skin in 2018!  We are always here to help you get your best skin ever. Give us a call (or text) to schedule your next facial or complimentary consultation: 704.339.0909
About the Blogger
Jessica McGuire
Esthetician since 2007
Modern Salon & Spa | Birkdale Village & Metropolitan
I always knew that I wanted to choose a career that would impact others in a positive way. Growing up in Raymond, Wisconsin with a mother and sister who are an occupational therapist and massage therapist inspired me to explore a field in which I can nurture others.  I love to help others reach their skincare, beauty, relaxation and wellness goals. The best part of my day is connecting with the people who entrust me with caring for their skin. I always strive to grow my knowledge and pass it on to others.
I love to provide waxing services for my guests, and I have often been told they are quick and painless!  In brow waxing, I find a creative outlet as well as the fulfilling goal setting that a lot of these entail.