We love autumn, it's our favorite time of year. Between the crisp fall air and the colorful leaves, we always feel inspired to switch up our look and try something new. If the vibrant foliage has you craving a fall-inspired hair color, here are some of the top hair color trends to inspire your new autumnal look.
Caramel Balayage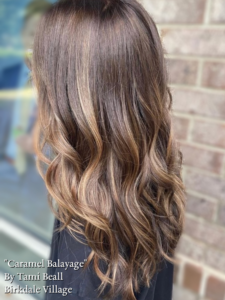 This delicious color is caramel balayage with a warm chocolate brown base. The contrast between the chocolate brown and the warm caramel pieces gives the hair a multi-dimensional and effortless appearance. 
Chic Copper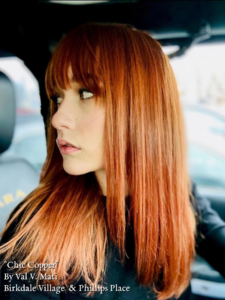 Copper is the quintessential fall hair color, it's a warm and rich tone that blends red and bronze colors. If you love copper but aren't ready to take the plunge, adding in copper highlights is a great way to incorporate a little pop of red without the commitment of all-over color. 
Red Velvet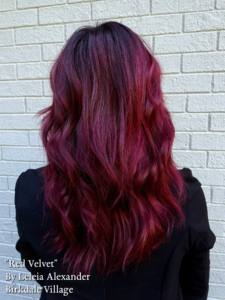 Red velvet is perfect for anyone wanting to try something a little bolder. It's a gorgeous combination of vivid red and rich purple hues that create a color as decadent as the dessert it's named after. 
Chocolate Brown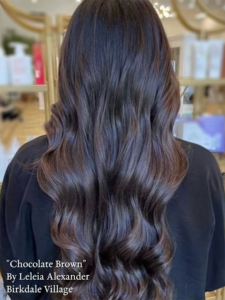 This deep chocolate brown is rich and sultry, giving off an air of mystery and sophistication. Chocolate brown is a staple every autumn because it is both classic and chic. 
Autumn Leaves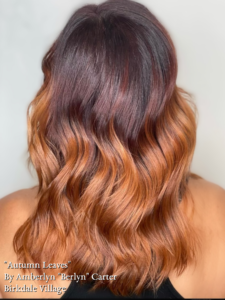 Taking inspiration from the colorful fall foliage, this "Autumn Leaves" color is a beautiful combination of the red-violet base with copper ends to create the ultimate melt of autumnal hues.
Bronde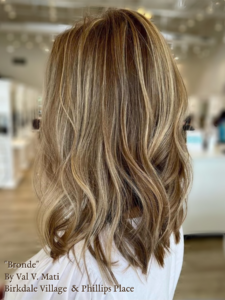 Bronde is neither fully blonde nor brunette; it's a great middle-ground between the two. This stunning multidimensional and low-maintenance color gives hair both depth and fullness.
If you are ready to embrace the fall season and try a new hair color call or text Modern Salon and Spa at 704.339.0909 to book an appointment or book online here.